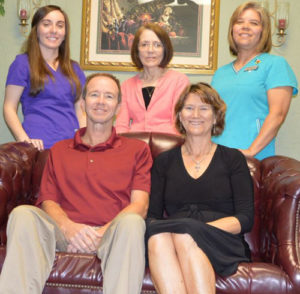 Steven Cox, D.O.
Dr. Cox is a native of Noble, OK and received his Bachelor of Science degree from the University of OK and his doctorate of Osteopathy from Oklahoma State University Center for Health Sciences. For 12 years he practiced in Tulsa, OK before he decided to move back to the Norman area where he started this practice in 1996.
For 33 years he has been married to his wife Pam and they have three adult children who all graduated from Norman High School – Sarah, Tyler, and Ryan.
Lorrie Mann LPN, Weight Loss Coach
At first Lorrie started working for Dr. Cox with no medical experience. However, after developing a love for patient interaction and the medical field, she obtained her LPN degree to better serve our patients. She has also become a weight loss coach because of her desire to help patients live healthier lives.
Brenda Wilson, Office Manager
Ever since 1996, Brenda has been the office manager for Dr. Cox. She makes all patients feel like family with her experience, knowledge and caring attitude.
Pam Cox, Weight Loss Coach and CPA
Pam is the wife of Dr. Cox and from the beginning, has always handled the business side of the practice. However, after her own weight loss success, she now has a more active role as a weight loss coach. She works with patients on setting and achieving their goals to living a healthier lifestyle and weight loss through better nutrition and exercise.
Savanna Dyer, Medical Assistant
Phlebotomist & Part-time assistant.
Ryan Cox, Administrative Assistant
Ryan works part-time, mainly assisting his mother with the business side of the practice. He also works frequently at the office helping with various activities.
Our medically developed weight loss protocol and smarter lifestyle choices education offers dieters what they really want…a structured program that can put an end to constant dieting.
Business Hours
Monday to Thursday:
8:30am - 4:45pm
(Closed for lunch from 11:45am - 1:00pm)
Friday:
8:30am - 11:45am
Steven E. Cox, D.O is Authorized to Use the Ideal Protein Weight Loss Protocol and Products. The testimonials on this website are those of the individual that is identified, you should not necessarily expect to receive these results. Typical results vary from person to person and individual to individual when the Ideal Protein Weight Loss Protocol is followed properly. You should consult your physician or other health care professional before starting this or any other diet program to determine if it is right for your needs.
905 24th Ave NW Suite C Norman OK 73069 – Phone: 405-292-3060
Copyright © 2018 Ideal Protein All rights reserved.